17 Feb

Trading Futures: Prospects for California's University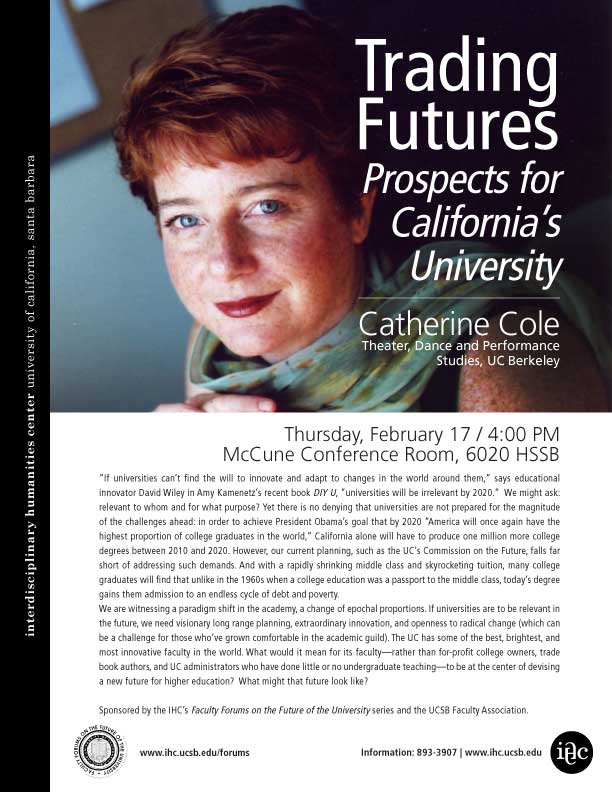 Catherine Cole (Theater, Dance and Performance Studies, UC Berkeley)
Thursday, February 17, 2011 / 4:00 PM
McCune Conference Room, 6020 HSSB
"If universities can't find the will to innovate and adapt to changes in the world around them," says educational innovator David Wiley in Anya Kamenetz's recent book DIY U, "universities will be irrelevant by 2020."  We might ask: relevant to whom and for what purpose? Yet there is no denying that universities are not prepared for the magnitude of the challenges ahead:  In order to achieve President Obama's goal that by 2020 "America will once again have the highest proportion of college graduates in the world," California alone will have to produce one million more college degrees between 2010 and 2020. However our current planning, such as the UC's Commission on the Future, falls far short of addressing such demands. And with a rapidly shrinking middle class and skyrocketing tuition, many college graduates will find that unlike in the 1960s when a college education was a passport to the middle class, today's degree gains them admission to an endless cycle of debt and poverty.
We are witnessing a paradigm shift in the academy, a change of epochal proportions. If universities are to be relevant in the future, we need visionary long range planning, extraordinary innovation, and openness to radical change (which can be a challenge for those who've grown comfortable in the academic guild). The UC has some of the best, brightest, and most innovative faculty in the world. What would it mean for its faculty—rather than for-profit college owners, trade book authors, and UC administrators who have done little or no undergraduate teaching—to be at the center of devising a new future for higher education?  What might that future look like?
Sponsored by the IHC's Faculty Forums on the Future of the University series and the UCSB Faculty Association.
Click here to view a transcript of Cole's lecture.