25 May

Break Every Yoke: Religion, Justice, and the End of Mass Incarceration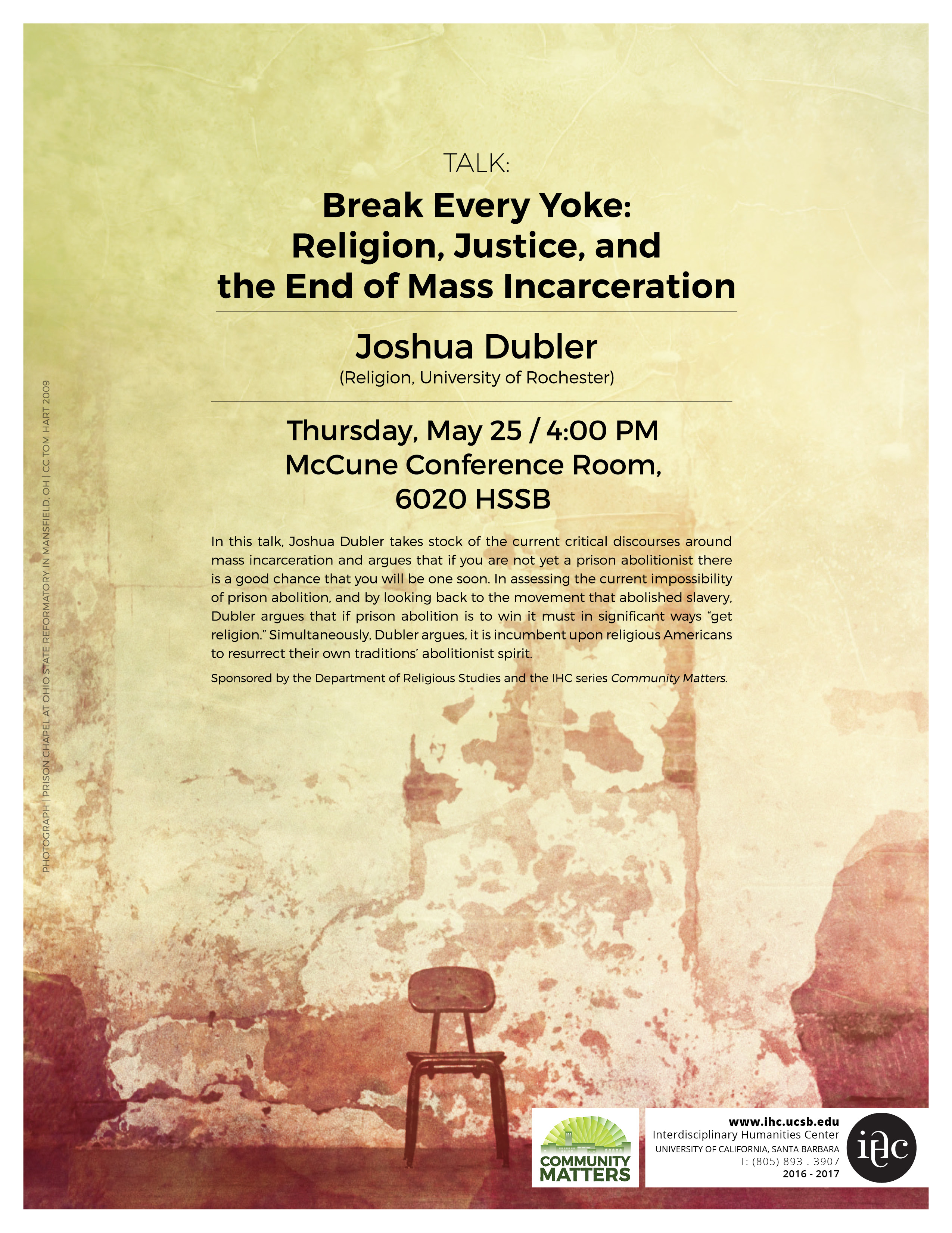 Joshua Dubler (Religion, University of Rochester)
Thursday, May 25, 2017 / 4:00 PM
McCune Conference Room, 6020 HSSB
In this talk, Joshua Dubler takes stock of the current critical discourses around mass incarceration and argues that if you are not yet a prison abolitionist there is a good chance that you will be one soon. In assessing the current impossibility of prison abolition, and by looking back to the movement that abolished slavery, Dubler argues that if prison abolition is to win it must in significant ways "get religion." Simultaneously, Dubler argues, it is incumbent upon religious Americans to resurrect their own traditions' abolitionist spirit.
Joshua Dubler is a critically engaged scholar whose teaching and writing takes place where American religious history and ethnography intersects with critical theory, and with the theory of religion. Among other topics he teaches classes on Religion in America, Islam in America, Theories of Religion, Guilt, Genealogy, and Pilgrimage. He is author of Down in the Chapel: Religious Life in an American Prison (FSG, 2013). With Andrea Sun-Mee Jones, he is the co-author of Bang! Thud: World Spirit from a Texas School Book Depository (Autraumaton, 2007). With Vincent Lloyd, he is currently writing a book entitled "Break Every Yoke: Religion, Power, and the End of Mass Incarceration," which looks to marshal religious resources toward prison abolition. He is also working on a cultural history of the concept of guilt in America.
Sponsored by the Department of Religious Studies and the IHC series Community Matters.