16 Apr

Beyond Borders: Ancient Societies and Their Conceptual Fontiers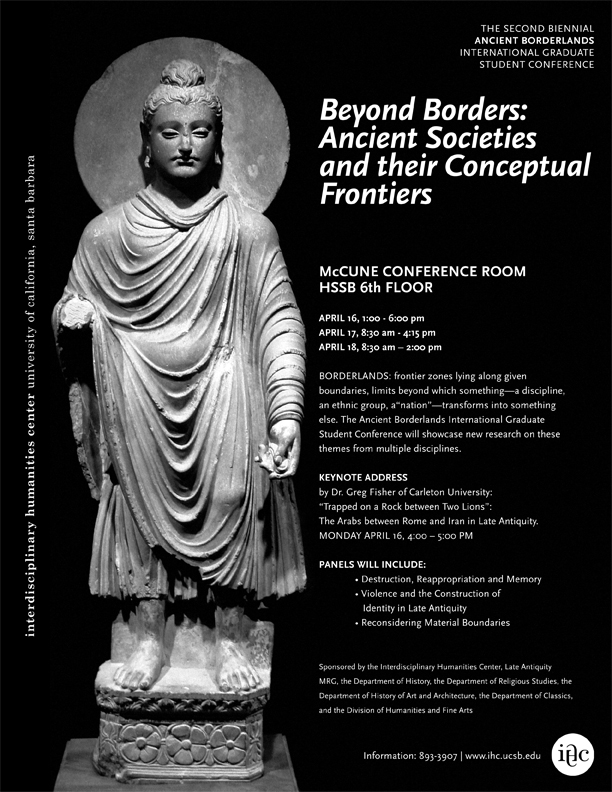 The Second Biannual Ancient Borderlands International  Graduate Student Conference
Friday, April  16 / 1:00 – 6:00 pm
Saturday, April 17 / 8:30 am – 4:15 pm
Sunday, April 18 / 8:30 am – 2:00 pm
McCune Conference Room, 6020 HSSB
BORDERLANDS: frontier zones lying along given boundaries, limits beyond which something—a discipline, an ethnic group, a"nation"—transforms into something else. The Ancient Borderlands International Graduate Student Conference will showcase new research on these themes from multiple disciplines.
PANELS WILL INCLUDE:
Destruction, Reappropriation and Memory within Urban Spaces
Violence and the Construction of Identity in Late Antiquity
Emotional Experiences at the Boundaries
KEYNOTE ADDRESS by Dr. Greg Fisher of Carleton University: "Trapped on a Rock between Two Lions": The Arabs between Rome and Iran in Late Antiquity.  MONDAY APRIL 16, 4:00 – 5:00 PM
Sponsored by the IHC's Ancient Borderlands RFG, Late Antiquity MRG, Dept. of History, Dept. of Religious Studies, Dept. of History of Art and Architecture, Dept. of Classics, Division of Humanities and Fine Arts.