01 May

Nature of Care: The Racial Politics of American Philanthropy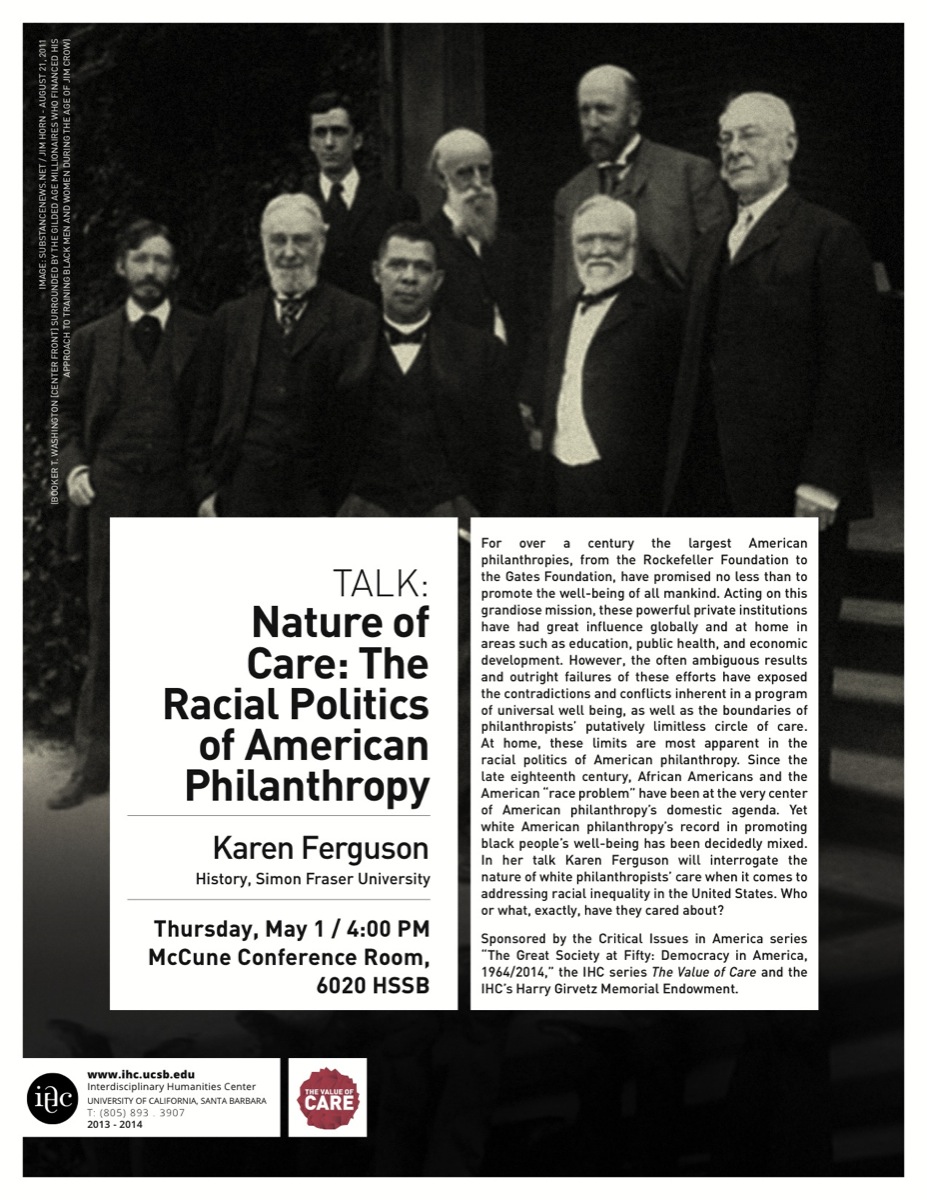 Karen Ferguson (History, Simon Fraser University)
Thursday, May 1, 2014 / 4:00 PM
McCune Conference Room, 6020 HSSB

For over a century the largest American philanthropies, from the Rockefeller Foundation to the Gates Foundation, have promised no less than to promote the well being of all mankind. Acting on this grandiose mission, these powerful private institutions have had great influence globally and at home in areas such as education, public health, and economic development. However, the often ambiguous results and outright failures of these efforts have exposed the contradictions and conflicts inherent in a program of universal well-being, as well as the boundaries of philanthropists' putatively limitless circle of care. At home, these limits are most apparent in the racial politics of American philanthropy.  Since the late eighteenth century, African Americans and the American "race problem" have been at the very center of American philanthropy's domestic agenda. Yet white American philanthropy's record in promoting black people's well-being has been decidedly mixed. In her talk Karen Ferguson will interrogate the nature of white philanthropists' care when it comes to addressing racial inequality in the United States. Who or what, exactly, have they cared about?
Karen Ferguson is the author of Top Down: The Ford Foundation, Black Power, and the Reinvention of Racial Liberalism. Ferguson was born in Regina, Saskatchewan and grew up in suburban Toronto. Always a city lover, she reveled in living in Montreal while pursuing an undergraduate degree at McGill University. she received a doctorate in African-American history from Duke University in North Carolina in 1996. Since 1997, she has been teaching at Simon Fraser University and enjoying living in Vancouver. In July 2007, she began a joint appointment with SFU's Program in Urban Studies.
Sponsored by the Critical Issues in America series "The Great Society at Fifty: Democracy in America, 1964/2014," the IHC series The Value of Care and the IHC's Harry Girvetz Memorial Endowment.
Click here to listen to a recording of Karen Ferguson's talk for the IHC's The Value of Care series.