12 May

2014-15 IHC Faculty Release Time Award Winners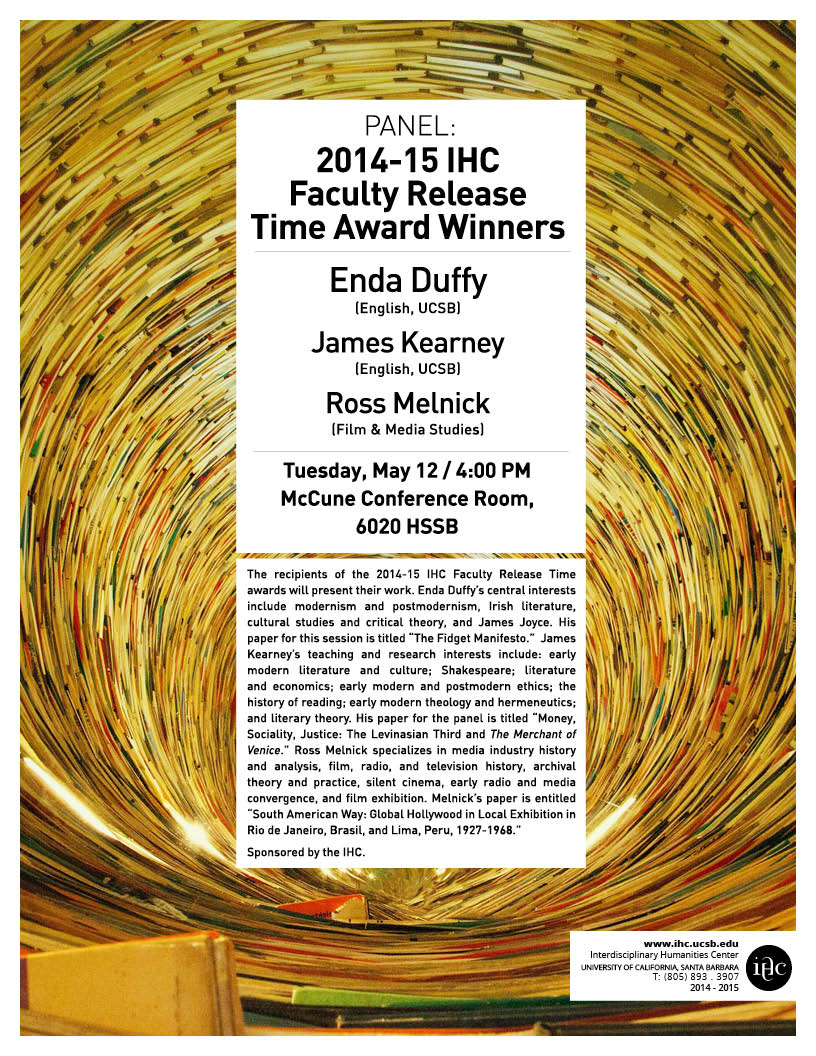 Enda Duffy (English, UCSB)
James Kearney (English, UCSB)
Ross Melnick (Film & Media Studies, UCSB)
Tuesday, May 12 / 4:00 PM
McCune Conference Room, 6020 HSSB
The recipients of the 2014-15 IHC Faculty Release Time awards will present their work.
Enda Duffy is a Professor in the English Department at UC Santa Barbara. He received his Ph.D. from Harvard University, where he won a Whiting Fellowship, and taught at Reed College and Wesleyan University before coming to UC Santa Barbara.  His central interests include modernism and postmodernism, Irish literature, cultural studies and critical theory, and James Joyce. He is the author of The Subaltern Ulysses (U of Minnesota P, 1994), and of  The Speed Handbook: Velocity, Pleasure, Modernism (Duke University Press, 2009).  The Speed Handbook was co-winner of the Modernist Studies Association Book Award as the best book in modernist studies, 2010. Prof. Duffy is co-editor of Joyce, Benjamin and Magical Urbanism (European Joyce Studies, Vol. 21, 2011), of an edition of Ulysses and of Katherine Mansfield's short stories, and of numerous articles on Joyce, Irish modernism, and on post-colonial and modernist literature and culture. He is the founding director of COMMA, the Center on Modern Literature and Culture in the English Dept. Professor Duffy is currently working on two projects: a cultural history of modern Ireland, and a book on energy in modernist culture. His paper for this session is titled "The Fidget Manifesto."
James Kearney is Associate Professor of English at the University of California, Santa Barbara, where he has taught since 2006. His teaching and research interests include: early modern literature and culture; Shakespeare; literature and economics; early modern and postmodern ethics; the history of reading; early modern theology and hermeneutics; and literary theory. His first book, The Incarnate Text: Imagining the Book in Reformation England (University of Pennsylvania Press, 2009; winner of the CCL's Book of the Year award for 2009), explores how the book was imagined during the crisis of representation occasioned by the Reformation's simultaneous faith in text and distrust of material forms. He recently co-edited a special issue of the journal Criticism addressing "Shakespeare and Phenomenology" (Summer, 2012). He is currently working on two research projects: one that addresses reading as transformation in early modern England and one that addresses ethics and economics in Shakespeare's plays. His paper for the panel is titled "Money, Sociality, Justice: The Levinasian Third and The Merchant of Venice."
Ross Melnick specializes in media industry history and analysis, film, radio, and television history, archival theory and practice, silent cinema, early radio and media convergence, and film exhibition. He is the author of American Showman: Samuel 'Roxy' Rothafel and the Birth of the Entertainment Industry, 1908-1935 (Columbia University Press, 2012) and the co-author of Cinema Treasures (MBI Publishing, 2004). His articles have also appeared in anthologies and journals such as Film History and The Moving Image. He was a Postdoctoral Fellow at the Fox Center for Humanistic Inquiry at Emory University from 2009-2010. He previously served as curator of the collection at the Museum of the Moving Image; as archivist/historian for Loews Cineplex; and worked in film marketing for Miramax, MGM, and DreamWorks and in film distribution for Sony Pictures Releasing. He is currently writing his next book, Cine Metro: American Film Exhibitors in Global Markets, 1925-1982. Melnick's paper is entitled "South American Way: Global Hollywood in Local Exhibition in Rio de Janeiro, Brasil, and Lima, Peru, 1927-1968."
Sponsored by the IHC.